High Performance Tiled Conservatory Roofs Wimborne & Dorset
If you currently have a conservatory that is chilly in winter and boiling in summer, our tiled conservatory roofs could change all that. Designed to bring the greatest levels of thermal performance, you'll experience a living space that is comfortably cosy. You can also rest with total peace of mind. Weatherproofing and security and all top-notch with these replacement roofs.
No Tie Bar
For those who are less familiar with them, a tie bar is a feature that many conservatories have to add strength and support. Many homeowners view this feature as an unwelcome eyesore. If that's the case, our tiled conservatory roofs are what you need. Being of superior strength, they will never need a tie bar. You'll be able to enjoy a strong and attractive roof with our offering.
Low U-Value
U-values are an excellent reflection of thermal efficiency. The lower the U-value, the less transfer of heat there is between the exterior and interior of the property. Our tiled conservatory roofs have a U-value of just 0.17 W/m²K, with an option to reduce this as low as 0.13 W/m²K. Being this low, you can expect the minimum amount of heat loss from your home. That means a toasty, comfy living space for your home.
Full Length Glass Panels
Full length glass panels will bring a lot to your tiled conservatory roof. Brightening up your Wimborne or further afield home, they'll allow natural light to flow into your property. In fact, you'll be able to dictate the placement of these panels for maximum effect. This is sure to wow any guests to your home and bring out the most of your decorative style. Brighten up your conservatory with this roof.
Fully Fire Tested
Peace of mind is something you can't put too much emphasis on. Our tiled conservatory roofs are designed to deliver exactly that. Ensuring that you can rest with complete comfort in your home, our tiled conservatory has been fully fire tested. Rated as B-roof to EN 13501-5:2016 and AC according to BS476-3:2004, you can rely on our replacement conservatory roof to deliver the safest performance.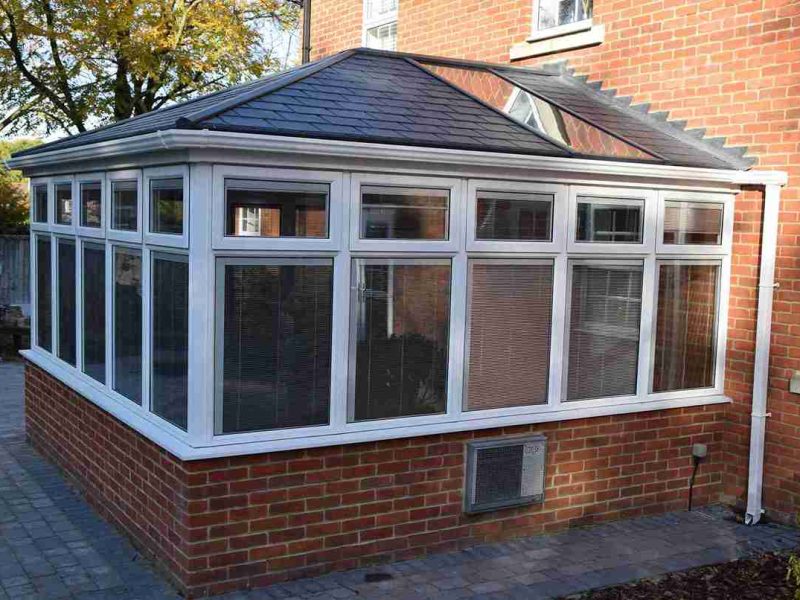 Flexible Tiled Conservatory Roofs
Here at Swain and Rands, based in Wimborne, we think it's important that our homeowners have excellent freedom of choice when it comes to their tiled conservatory roofs. Thankfully, being supplied by leading manufacturer Ultraframe, we can make this possible. Whether going onto a brand new conservatory or making a replacement roof, their offering is designed to offer flexibility and versatility.
As a homeowner, you'll have a range of options and decisions to make regarding your tiled conservatory roof. You'll get to choose where you prefer the glass panels to be placed, using the layout of your home to maximum effect. There's also a choice of tile options available to help match those on the main body of your home. Whatever your vision, our conservatory roofs will be able to accommodate.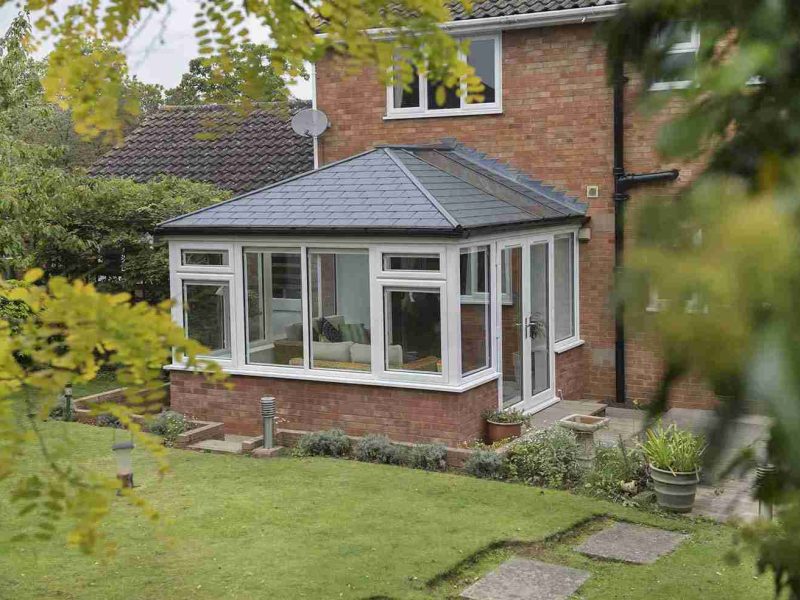 Long Lasting, Easy to Install
Our tiled conservatory roofs are designed to offer a sturdy, long lasting performance for your home. You can forget about them being damaged by the weather. NASA satellite data has been used to precision engineer them to handle the heaviest snow and wind loads. In addition to their solid construction, you'll receive decades of excellent longevity for a roof that will last.
The tiled conservatory roofs we supply and install have been engineered to be as hassle free as possible. This includes fitting. Being prefabricated in 12 pre cut Ultrapanels, there won't be any need for any have disruption on your property. Instead, the panels will be assembled efficiently and without mess. Forget about waiting weeks for your new conservatory roof, they'll be installed in as little as days.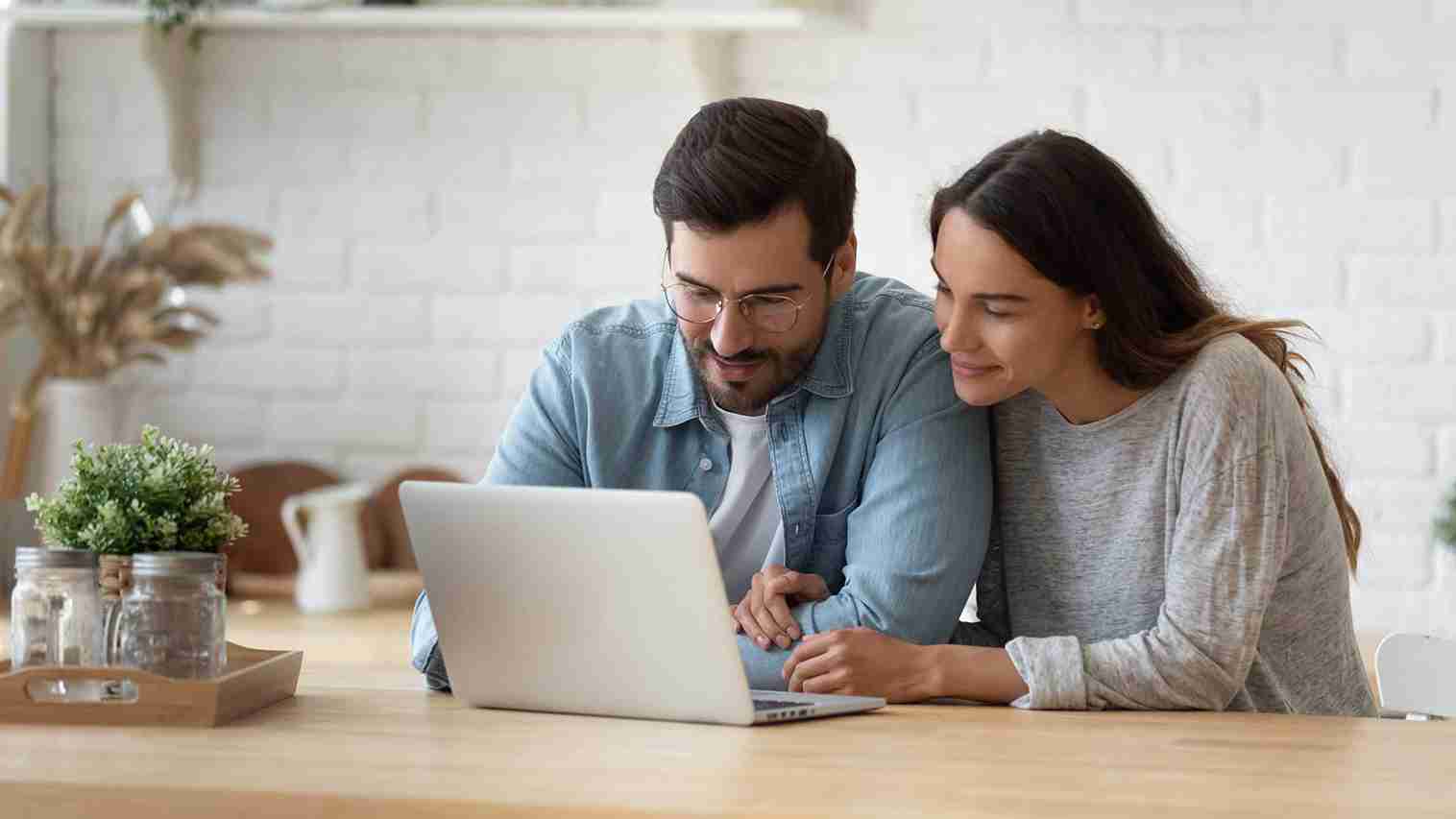 Tiled Conservatory Roof Quotes Wimborne & Dorset
Forget about pushy sales techniques. Our Wimborne based customer service team are here to support, not badger you. In aid of this, when it comes to pricing, we use an online quoting request system. This will allow us to give you a guide tiled conservatory roof quote based on your measurements. So, what are you waiting for? Get started with our tiled conservatory roofs today!
Request a Callback
Our expert and friendly staff are on hand to support our homeowners at any stage of the process. If you want to speak to us about our tiled conservatory roofs, you can request a callback. Book a callback online today for our team to contact you at a convenient time.
Finance Options
Once you've found the perfect tiled conservatory roof or home improvements, our finance options could provide you with some extra support. These options allow you to spread the cost of payment rather than paying all in one go. Take a look at our full range of finance options today!
FAQs
What's the best way to request a quote?
What other products do you offer?
Are your installations accredited?
Accredited by Certass, you can trust our fittings to deliver a professional standard.
What's the best way to request a quote?
What other products do you offer?
Are your installations accredited?
Accredited by Certass, you can trust our fittings to deliver a professional standard.