Keep Your Home Clean with Porches Wimborne & Dorset
Porches can make a dramatic impact on the look and function of your home. Being made from high quality materials with the latest production methods, you'll have a truly high performance porch. Keep your home clean and tidy with this functional space. By adding this home improvement to your home, you'll also have an extra layer of security. These multi use spaces will change your home.
Extra Security
Adding a porch to your Wimborne or further afield home will help bring additional security. They'll create another barrier between your home and any potential intruders. Just having an additional layer of security will be a major deterrence for many intruders. With this added level of security, you'll be able to enjoy peace of mind. Relax in your home, feeling safe and sound with these living spaces.
Extra Space
If you're looking to expand the profile of your home, a porch could be an excellent option. Giving your home some extra floor space, you'll have extra useable room inside your home. For many people, this space is used to store items of clothing such as coats and shoes. However, you can use this space for whatever you need. Find the perfect use for your new living space.
A Clean Home
Porches can help to keep your home clean. Many homeowners use this additional space as an area to remove wet clothing after being caught in a shower. This can help keep the interior of your home warm and dry. All of the wet items of clothing stay in the porch where they can dry off without affecting the interior of the home. This will help to keep your home in the best possible shape.
Bespoke Designs
We don't believe in a one size fits all policy here at Swain and Rands. Instead, our Wimborne based team prefer to work on a case by case basis. The same applies when it comes to our porches. Instead of being limited to a range of styles, we are able to create truly bespoke designs. Whatever the style or shape of your home, we'll be able to create the perfect accompaniment to the greatest effect.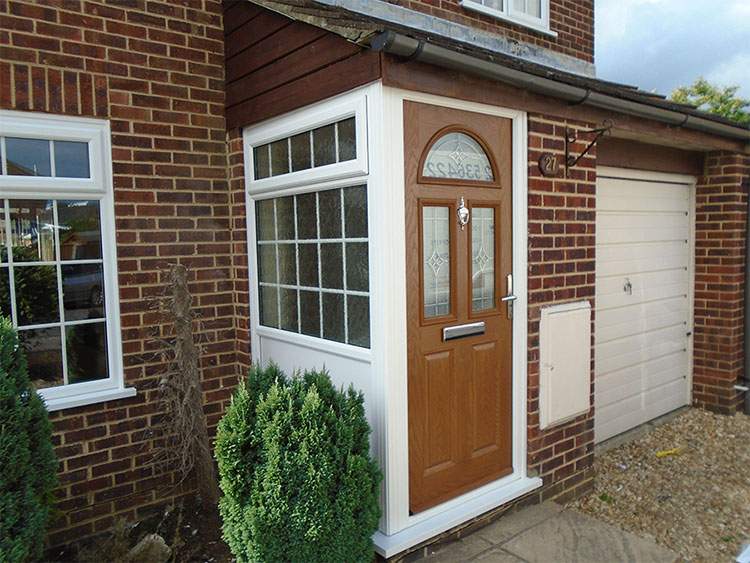 Thermally Efficient Porches
Adding a porch to your home won't affect the thermal efficiency negatively. In fact, it could even have the opposite effect. Made from an energy efficient structure, they'll help to trap heat within the profile of your home. In winter, this could help reduce your reliance on central heating, helping to keep bills low. So not only will they add value to your home, but they could help keep bills low too.
In and around Wimborne, we're used to having to put up with unpredictable weather. It can all change in moments as well, so your porch needs to be ready for anything. Thankfully, ours are up to the task. We build our home improvements to the most rigorous of standards, ensuring longevity and a durable performance. As a result, you'll have a superb level of weatherproofing.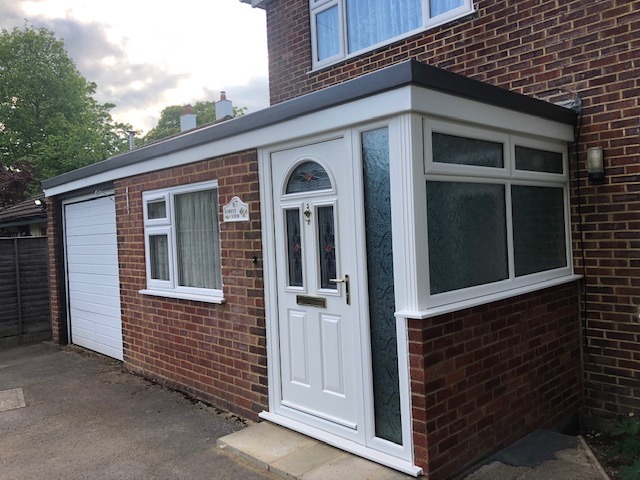 Customisable Design
Whatever style of home you have, you'll be able to make sure that your Porches are the perfect fit. We offer a bespoke design service that will allow you to work with our Wimborne based team to shape the perfect space. You can add the perfect door to complete the look and performance too. No matter how intricate the design you have in mind, our team will do their best to accommodate.
Installation won't be a hassle either. Our fitting team has been expertly trained in order to deliver the very best service. Efficient and professional, they'll deliver a quality installation without leaving any mess behind. Instead, you can expect a hassle free and professional fitting that leaves you with a long lasting product. Expect the very best from the team here at Swain and Rands.
Porch Quotes Wimborne & Dorset
Looking for a Porch quote? We use an quoting engine that makes it easier than ever for customers to get a quote. Simply put in your measurements, and we'll take care of the rest and get back to you with a bespoke quote! So, what are you waiting for? Get started with your very own porch quote online today!
Request a Callback
We welcome customers to get in touch with us regarding any questions on our porches. In fact, we'd be more than happy to help you with any queries. To this end, we let our customers request a callback for a time that suits them. Request a callback online today!
Finance Options
Think your home would benefit from our range of porches? In that case, why not take a look at our range of finance options? These flexible payment options allow you to spread your cost of payment over a timeframe that suits you. Explore the full range of options online.
FAQs
What's the best way to request a quote?
What other products do you offer?
Are your installations certified?
With accreditation from Certass, you can trust our team to deliver quality installations.
What's the best way to request a quote?
What other products do you offer?
Are your installations certified?
With accreditation from Certass, you can trust our team to deliver quality installations.